In the beginning it was only a wide open prairie, the hunting ground of the Karankawa Indian tribes, the winter feeding grounds of great herds of buffalo and large flocks of wild ducks, geese, sandhill and whooping cranes, and numerous other game birds, and home to longhorn cattle, deer, and wolves.

Earliest settlement of the community known as Cane Island, for Cane Island Creek that runs through it, was in 1872.
The townsite of Katy was laid out and platted by J. O. Thomas, L. C. Luckel, and R. M. Cash in 1895, supposedly named for the M-K-T Railroad that runs through it. The City of Katy was formally incorporated in 1945. Katy has always been a traditional family style community; however, it also played a major role as a rail hub, a rice farming and agricultural center, and one of the largest gas fields in this part of Texas.
Ancestral Homes of Katy were researched and historical markers erected by the local Texas Sesquicentennial Committee in 1986. The historical markers can be used as a guide for a walking or driving tour of more than a dozen historical homes and buildings in downtown Katy.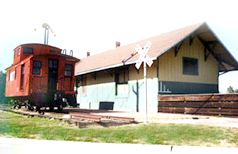 MKT Depot and Caboose
5615 First Street in Railroad Park. Restored Katy Depot with MKT Museum, Visitors Center and caboose. Open from 9:00 a.m. to 3:00 p.m. Monday through Friday and from 10:00 a.m. to 2:00 p.m. on Saturday.
The Katy Heritage Society was established in 1979 by a group formed to save the old MKT Railroad Depot. With the help of the City, the Depot was acquired and restored by the Heritage Society. Other historical structures have been acquired and restored by the Society. All of their structures are now located at Katy Heritage Park, 5990 George Bush Drive. The group continues itís work to protect and preserve the historic resources of Katy. Please contact the Katy Heritage Society at 281-391-2550 for the History of Katy.

Katy Heritage Society