THE KATY PLAN:
The Katy Plan was the first action taken by Leonard Merrell after he came to Katy ISD. A Strategic Plan is part and parcel of the Total Quality Management scheme, and all public school superintendents do one. They are not truly designed to serve as a "plan," as the "plan" is already set. The exercise of creating one is designed to fool the public and to cover up the true agenda. In this case the agenda was to continue the one set by the previous superintendent, Hugh Hayes, which was to take Katy ISD down a left leaning path. I did my best to stop them.
Hugh Hayes, had without any authorization from the Board of Trustees, removed ability grouping from the Katy schools. That step alone, which went pretty much unnoticed except by me, was clearly a death knell for academics in our Katy public schools.
At the time none of us realized that the elimination of ability grouping, which goes hand in hand with educating the smarter students, was on the government's chopping block as it didn't fit in with letting everyone be "equal."
When ability grouping is removed, then all students are thrown together in all classrooms. If the student survives that kind of an educational model, he can, if he is able (and his parents have taught him the basics), enroll in PreAP and AP coursework toward the end of his public school education. But the number of students who make that cut is minimal. As a side note, the College Board has been taken over by David Coleman who helped write the curriculum for Common Core. Coleman was also Arne Duncan's roommate in college. Follow the dots, please. The point is, even the PreAP and AP courses are being affected by education reform (and that's not a good thing if one understands education reform.) Read elsewhere on this site the articles on AP American History this fall.
In a heterogeneously grouped classroom, no student is served. It is unreasonable to expect any teacher to be able to teach anything at all in a heterogeneously grouped class, and what happens is that he/she teaches to the lowest level. The other students either get the subject matter on their own, teach each other, or miss out completely. Great way to develop an educated populace, yes?
The first order of business for the Katy Plan was for the Board members to nominate citizens and employees to be on the Katy Plan Committee. Here are my picks:
Selections for the Katy Plan Committee
:
Principals: Bill Haskett, Alys Brasfield (Shorter), Karen Rue
Administrators: Karen Wilson, Bill Bundy, Don Stacy
Teachers: Sandra Olson
, Bob Bryant, Julia Oldham, Linda Carswell
Community Members
: George Scott, Kay Kinnan, Kay Guzman, Tom Adams
Parents
: Johanna Craig, Jamie Sawicki, and Stu Levin
These were all people whom I knew to be very smart, knowledgeable about students, and capable of helping me in my goal to return academics to our Katy schools.
Here is the committee as it was formed by the superintendent, Leonard Merrell and the Board President, Larry Moore:
The Plan Committee
Steering Committee Members
Joe Kimmel, Leonard Merrell, Larry Moore, Don Stacy*, Stanley Thompson
Committee Members
Joe Adams, Linda Bailey, Jan Barnett, Alys Brasfield (Shorter)*, Jim Brasier, Ken Burton, Ruth Ann Casci, Woodrow Coleman, Gloria Hansen, Bill Haskett*, Mary McGarr, Roy Moore, Sandra Olson*, James Peters, Barbara Pryor, Charles Rogers, Karen Rue*, Bob (Robert) Shaw, Judith Snyder
Please note the ones marked with an asterisk. They were my selections. I imagine that some of them were selected because they got nominations from other Board members too. I fussed mightily about the fact that the committee only had two teachers on it.
Before I explain how the Plan unfolded, what follows is an explanation of what I considered the most important part of this plan.
In April of 1996, when I was getting really fed up with everything Leonard Merrell was trying to do, the Katy Plan was finished and presented to the Board for a vote. We voted unanimously to implement the plan. The Board and the committee during the discussions at the end were clearly in favor of implementing ability grouping once again into the Katy schools. A District committee to "review and evaluate present grouping practices in Katy ISD and design [a] proposal to deliver effective instruction for each student" was a part of the Plan as voted upon. I'm guessing that when I left, that committee proposal disappeared as no effort was ever made to change to ability grouping. Actually the intent of the Board was to implement homogeneous grouping by 1998 (I still have the paperwork to prove that). But the watered down version is what was presented but never implemented.
What the committee had agreed upon, however, were these stipulations:
There was to be, by 1998, implementation of homogeneous grouping in grades four through twelve.
There would be "flexible grouping" (whatever that meant) in grades K through two. Grade three would be a transition year. (What they were doing was trying to drag their feet in case the program got implemented.) Grades four and five would be grouped by reading ability.
At the secondary level, honors courses would be re-established in English, history, science and math in grades six through twelve. And Pre AP and AP courses would continue.
Placement in secondary honors courses would include parent/student requests for entry. No one was to be denied entry at any level.
I also tried to get someone active in creating that fourth year of honors math (probably differential equations) for students who started taking Algebra in the seventh grade. I was also very opposed to having Algebra spread out over two years. In my opinion, having to do that was the result of a poorly constructed math curriculum in the elementary grades.
They just humored me through this whole process. The agenda was already set and coming down from the TEA (the assistant superintendent of the previous administration had already told me that) so I wasted my time that whole year. That's when I decided to resign a year early from my Board position.
I'm always amused by the fact that Robert Shaw and Judy Snyder claim on their Board resumes on the Board web site that they were members of this committee. In those days, they were in favor of the return of academics to our schools, but they've done a 180 since then. Too bad. They could have had a legacy of accomplishment instead of being a part of the academic deterioration of our schools.
The current superintendent (Alton Frailey) has convened a committee that has been working for quite a while on HIS strategic plan. They are flying under the radar, and I don't expect wonderful things from this process. The process does not lend itself to anything but more educrat pap. I'll bet there's no indication of returning academics in HIS plan either!
[And we never heard a word about the work of this committee, ever!!!!MM]
Part of the exercises the Katy Plan committee members endured had to do with breaking out into separate sub-committees to do the facilitator's bidding.
I was the chairman of the Benchmarking Committee. I am posting our report to the main committee so that anyone can see that our intent was clear. We wanted a return to ability grouping, to the teaching of knowledge, not process, and we wanted no part of OBE. Time has told us how that went. Think about what a different student body KISD would now have if they had instituted a true academic criteria! I maintain that we would have many more students enrolled in major colleges; many more students mathematically and scientifically apt, and many many more National Merit Scholars and no need for a burgeoning vocational education program. KISD has the students with potential, but they are failing them miserably with their hokey OBE curriculum. One would think that even the students would be angry at how they've been cheated!
BENCHMARK COMMITTEE'S REPORT
The Benchmark Committee submits to the Katy ISD Plan Committee the following benchmark items. These are arranged under each "deliverable" heading. The Benchmark Committee wants the Plan to contain goals that reflect true academic achievement for our students.
The Committee also suggests that curriculum be developed so as to move back to the center with regard to content versus process learning. We believe a balance will better serve our students.
The Committee believes that the Committee of the Whole should develop the "measurables" for these benchmarks.
These are our benchmark items.
DELIVERABLE #1 A LONG TERM EDUCATIONAL PLAN THAT IS VISIBLE, DOCUMENTABLE AND REPORTABLE.
[And yes, it galled me to have to use this stupid TQM vocabulary!]
High levels of academic achievement shall be the expectation for students.
A table of district-wide academic goals such as Round Rock's shall be created.
(This sample table is taken from the Round Rock ISD Curriculum Management Audit dated September 7, 1995)
"By June 1996, each grade level tested on the TAAS shall perform at minimum expectations district wide as follows:
GRADE READING WRITING MATH
3 89% 85%
4 89% 93% 84%
5 90% 86%
6 91% 83%
7 91% 84%
8 89% 89% 80%
10 90% 96% 82%
In addition, each campus shall achieve annual increases in order to meet a campus goal of 90% as soon as possible, but no later than 1998."
(These goals would, of course, be adjusted to fit KISD populations. Conceivably they would be district-wide goals. The Benchmark Committee thought mastery goals would probably serve the district in a more meaningful way especially since the TAAS test will continue to be changed either in content or in levels of required passing proficiency.)
Curriculum shall be driven by high caliber course content, not tests.
DELIVERABLE #2 A SET OF FUNDAMENTAL OPERATING PRINCIPLES
Grades shall reflect actual academic achievement. A review of all schools' practices shall be undertaken. A review of Algebra I and Biology I grades in comparison to grades achieved on end of year exit exams shall be conducted. A high degree (at least 90%) of correlation is expected. Effort or participation grades shall not be taken.
The level of educational attainment (master's degree) shall increase, by 25% every two years for employed KISD teachers. The tuition costs for course work shall be borne by the district. Course work requirements shall be set by the district. Courses shall be primarily content based. Related concerns include tying the acquisition to salary raises, implication for future hires, and the cost of the program.
Eleventh and twelfth grade counseling staff shall be better utilized by relieving them of clerical duties related to class scheduling, so that they may better aid students with school and post school planning. The committee believes that this added emphasis and adult monitoring of academic plans will better direct students' academic endeavors. The committee suggests that the Texas Scholars Program be implemented as part of the counseling program in cooperation with business partners at the junior high (8th grade) level.
Awareness of American culture shall be the primary emphasis of cultural awareness activities.
Study hall periods at the high school level shall be voluntary.
Spelling instruction shall be a separate content area, shall be graded in all courses, and the use of a spelling textbook shall be considered for elementary grades.
All writing shall be graded for mechanics as well as content.
A review of minimum credit requirements for high school students shall occur.
DELIVERABLE #3 A GENERAL PHILOSOPHY RELATING TO CORE CURRICULUM
Curriculum shall be planned horizontally and vertically. This benchmark embraces the idea of skills mastery in a sequential and logical order for students. It does not imply a need for integration of the curriculum across disciplines.
All programs, before implementation, shall have measurable goals and objectives, an evaluation plan and schedule to show effectiveness, and a sunset time for modification or termination in the event that the program is not effective. Cost of the program shall be a consideration. All programs currently in place shall be reviewed under these same guidelines. Latitude shall be extended for programs such as Saxon math, if there are measurable goals from other research prior to implementation.
Seventy per cent of each day in elementary school shall be spent on academic tasks. (Lunch, recess, transition time, time spent being read to, browsing time in the library, self esteem programs, enrichment programs, art, music, physical education, et cetera are not to be considered "academic.") Time studies shall be performed at each elementary school.
Removal of the teaming concept at the seventh grade shall be considered.
Placement of the sixth grade in elementary school shall be considered.
DELIVERABLE #4 GENERAL GUIDELINES FOR METHODOLOGIES TO DELIVER CURRICULUM
Ability grouping shall be used, K-12. Flexible ability grouping within the class shall be used in grades K through 2. Grade three shall be a transition year when teachers, based upon standardized achievement test scores, teacher appraisal, and other pertinent factors (including reading level) shall determine placement for grades four and five. Flexible ability grouping within the class may be used in third grade, but ability grouping within the grade level shall be encouraged. Grades four and five shall be grouped by reading ability. Honors courses shall be available in every secondary school in English, history, science, and math (6 through 12). Placement in secondary honors courses shall be according to policy amended to include parental/student requests. Guidelines for retention in the program shall be developed. (Although not a part of our recommendation, it is important for the rest of the committee as well as the administration to know that the Benchmark Committee has serious concerns about maintaining high standards of achievement for honors courses. We want to serve the large majority of our students who wish to become prepared for college level work, but who do not wish to enter the AP level of class work in every subject level. We also want to maintain high standards for the "Regular" course level so that it does not become equivalent to the previous "Basic" class track. We want to have high expectations of achievement for all of our students.)
The math curriculum shall promote the basics with skill demonstration mastery occurring before the use of calculators. Application of skills and continuous review of previously learned skills shall occur. Reduction of participation in the Kumon math program shall occur when similar drill programs become incorporated into the regular curriculum.
A determination of sixth grade students' math readiness and ability shall be made at the beginning of the sixth grade. At the end of the fifth grade students shall know multiplication tables to 12 by rote, multiply and divide using fractions, work with decimals to three places, and divide by at least three numbers using long division. Identification of elementary schools that are not preparing students adequately shall be determined and remediation shall ensue.
DELIVERABLE #5 MEASUREMENT AND TRACKING SYSTEM
Testing shall be aligned with curriculum. This benchmark implies testing to assure skills mastery and content retention. It does not imply that tests will be designed so as to make the curriculum appear to be successful.
Ninety-five percent of all first graders shall be able to read fluently and on grade level at the end of the first grade. A norm referenced test, such as SAT7, shall be used to determine accomplishment.
Reading comprehension on level by 90% of all students shall occur in the 3rd, 4th, and 5th grades.
Phonemic awareness testing of all students shall occur by the end of the first grade, and subsequently for every student who has failed the TAAS reading portion and who has never been previously tested.
Of the students qualified for algebra in the 7th or 8th grade, by 1999 at least 90% shall still be taking a higher level math course (pre-calculus, calculus,?) in the 11th and 12th grades.
A set of teacher constructed end-of-course exams to be used in secondary schools (6 through 12) shall be created to measure student accomplishment in each academic course. The exams shall focus on common curriculum content across the district and shall provide data for improving lateral consistency and for setting district-wide levels of superior achievement.
Follow-up studies of KISD graduates shall be conducted using all available data including, but not limited to, ACT studies and a telephone survey of graduates two years after their graduation. A sample of at least 60 students randomly selected from each high school shall be used for the telephone survey. (The committee believes that knowledge of our ability to prepare students for post-secondary education or vocations can best be gauged at the two year mark. Results of the study, which shall be conducted in the summer of 1996 and every four years after that, shall be used to adjust the curriculum if necessary.)
Specific curriculum shall be developed in ninth and tenth grade English classes for supporting SAT and ACT test taking strategies and familiarization of content such as that utilized in the Princeton Review.
In an effort to help Katy Plan committee members understand what the school district was trying to shove down their throats (without saying that), I talked the board into agreeing to bring Robert Holland to Katy. He came, and about 100 people came to listen to him. The committee obviously didn't want to know what he had to say as they had other plans. [Please read Robert Holland's columns where he documents the implementation of Outcome Based Education in the State of Virginia.]
Katy, Texas 77450
October 30, 1995
Editor
New Katy News
Dear Editor:
Robert Holland's reprinted column in your last week's paper was well timed. The governor of California has just signed legislation requiring their schools to return to the use of phonics when teaching reading. Unfortunately, big city newspapers refuse to print stories about sensible educational initiatives in other states, so most people do not know when they occur. California has responded to public opinion and to the leadership of the California School Boards Association and will now return to the use of phonics as THE way to teach reading in that state.
Mr. Holland's columns, as originally printed, were pretty much solely responsible for exposing Outcome Based Education in the state of Virginia. Appearing over a year's time, the columns were apparently very effective in explaining OBE Doublespeak as Virginia citizens voted out not only the legislators, but also the governor who had tried to make Virginia an OBE beta site.
I have been trying for three and a half years to get someone to pay attention to my concerns about these academic issues in this state and in our school district. Finally, some are beginning to see the light, but creating this light has taken many people much time and effort. You and your newspaper have been at the forefront in the Katy area, and I applaud your diligence.
When I was initially discovering the meaning of Outcome Based Education, Mr. Holland's columns were among the first I read which, in my opinion, were based solely upon a concern for the dissolution of academic education in America. Mr. Holland is a very intelligent columnist who is perceptive and able to see through the hog-wash being pushed by the Departments of Education and of Labor, business corporations that need a large pool of malleable and unskilled workers, huge untaxed foundations, and college level schools of education.
The Benchmark committee that is working on its part of the Katy ISD Plan is hosting Mr. Holland for a speaking engagement on November 13 at Katy High School, and I hope that parents and educators will come and listen to what he has to say. I also hope that these same folks will take the time to read his columns as they appear weekly in your paper. Thank you for this effort.
Sincerely,
Mary McGarr
Trustee, Katy ISD
A cartoon published in the New Katy News on May 20, 1995 (Note the Six to One "time" on the scoreboard! In
those days I referred to myself as "Six to One Mary" just to point out that I was opposed to much of what the rest of the
Board was doing.)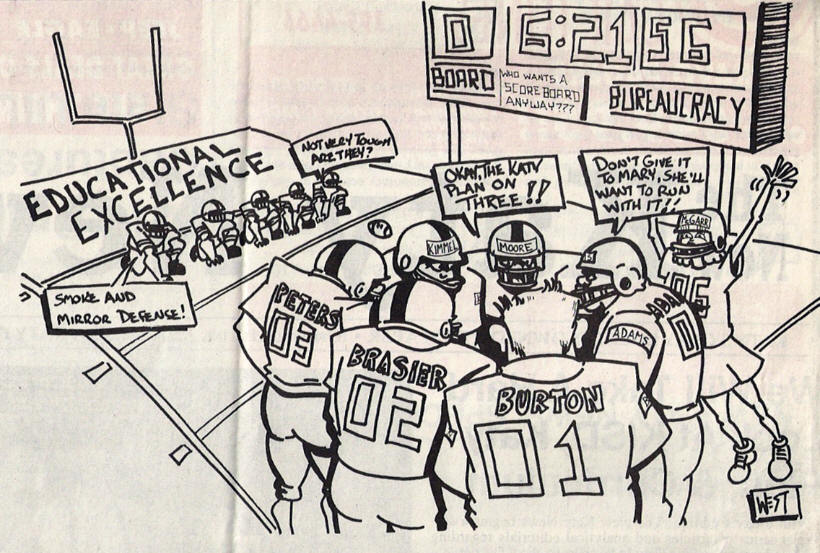 The editor of the New Katy News, George Scott, was trying to point out that the rest of the Board wasn't doing it's job with the "Katy Plan."
Ability Grouping Hot Point of Katy Plan
The Houston Chronicle
March 1996
Despite concerns from parents that the Katy ISD Plan's proposed ability grouping: would be bad for students, the academic blueprint for the district's future appears headed for school board approval later this month.
However, Trustee Joe Kimmel said trustees probably only will approve district goals and "high-level" Katy Plan targets, saving ability grouping issues for another discussion.
Kimmel chaired the Katy ISD Plan's Steering Committee. Among other things, the Katy Plan proposes ability grouping primarily in the fourth and fifth grades by reading ability.
Trustees and district officials met with approximately 175 members of the public to unveil the Katy Plan at a special meeting at Taylor High School on March 5.
Kimmel said overall, the public was very receptive to the plan's many suggestions, and "were generally impressed with the level of detail and the amount of work that went into the plan."
Charles Rogers, public information officer for the district, said the 13 parents who spoke expressed concern that ability grouping would deny their children "socialization" opportunities with students of different ability levels and backgrounds.
Kimmel offered his take on the parents. "They're expressing concerns about the average and special-needs children, about their ability to interact with the whole cross section of students at a school," he said. "I think that's the isse.[sic] If you isolate children by ability group, they don't get to interact with the full cross-section of students."
Both trustees Mary McGarr, who chaired the Katy ISD Plan's Benchmarking committee, and Kimmel said after the meeting that Katy already practices some form of ability grouping.
McGarr said flexible ability grouping within classrooms is based on students' reading levels. And, Kimmel said honors classes and the district's Challenge gifted-and-talented program constitute another form of ability grouping.
"There appeared to be a concerted effort by a group of people that were associated with one of our programs, Project TYKE, and those parents had some concerns about the ability program and I understand very well what their concerns are and understand why they have those," McGarr said.
Project TYKE is for special-needs preschoolers. McGarr said the Katy Plan does not propose eliminating the so-called "inclusion" program, which places special-needs students in regular education classrooms.
McGarr said her committee felt very strongly all students deserve a challenging curriculum --not just gifted students. She said ability grouping actually will enhance the curriculum of so-called average students, for whom, "It's like OK, you're regular, let's sit here and look out the window together."
"We need to improve on that," she said.
Under the guidelines presented by the Benchmarking Committee, students would be able to move from one ability grouping to another at either their or their parents' or teachers' suggestions, McGarr said. This safeguard would prevent "labeling" that would trap students at one level or another.
"I don't know what the objection can be," she said. "Teachers, in my opinion want to see this."
Additionally, teachers would be rotated between ability groups so the district's best teachers can teach "those who have the most difficulty learning."
She faulted the district for focusing only on students at both ends of the academic spectrum. While 85 percent of students in the district say they want to attend college, only 25 percent of those actually finish four-year programs.
"There's something wrong when you've got the student body that we've got in this school district, and larger numbers of students are not graduating form college," she said.
The Katy ISD Plan, she said, "benefits all children. They need help at all levels, and this plan addresses that."
[As a postscript I would point out that public schools do not exist to provide "socialization" opportunities for students! Public schools are supposed to provide ACADEMIC opportunities for students in the best manner possible, and ability grouping allows for that. PARENTS are supposed to provide their children with "socialization" opportunities on their own time and at their own, not the taxpayer's, expense!]