Len Messina (1951-2011)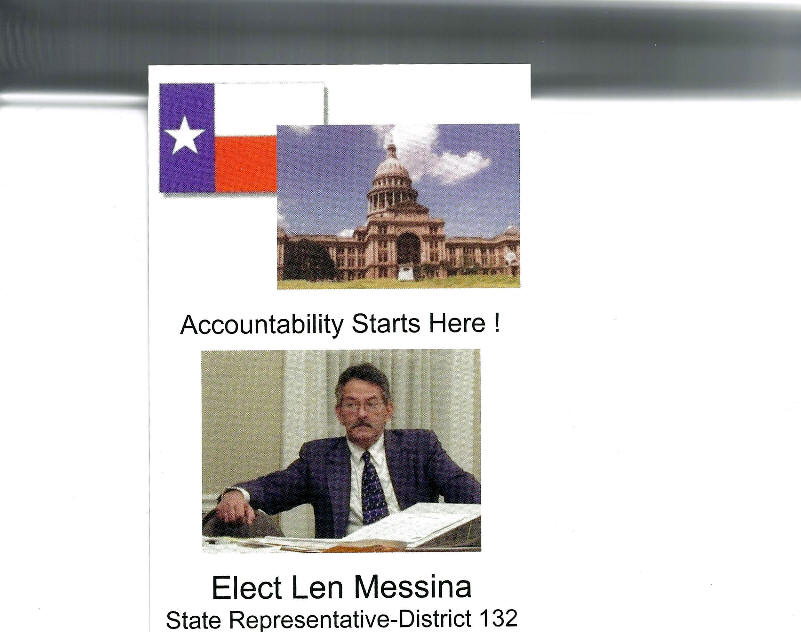 In Memory of

Leonard Paul Messina Sr.

December 2, 1951 - March 17, 2011

Leonard P. Messina Sr., known as "Len", loving husband, father, brother and son, passed away on March 17, 2011 at the age of 59 in Houston, Texas. He was born December 2, 1951 in Newark, NJ to Frank Messina and Mary Erickson. Len is survived by his wife of 40 years, Jan Messina, son Leonard Messina, Jr., daughter Casey Messina, daughter-in-law Janah Messina, father Frank Messina and wife Barbara Messina of Florida, sister, Denise Hartig of Massachusetts and brother-in-law Raymond Smith of Florida, and his dog Zack. Len was preceded in death by his mother, Mary Erickson, and sister, Deborah Messina-Smith. Len grew up in Florida and...

Leonard P. Messina Sr., known as "Len", loving husband, father, brother and son, passed away on March 17, 2011 at the age of 59 in Houston, Texas. He was born December 2, 1951 in Newark, NJ to Frank Messina and Mary Erickson. Len is survived by his wife of 40 years, Jan Messina, son Leonard Messina, Jr., daughter Casey Messina, daughter-in-law Janah Messina, father Frank Messina and wife Barbara Messina of Florida, sister, Denise Hartig of Massachusetts and brother-in-law Raymond Smith of Florida, and his dog Zack. Len was preceded in death by his mother, Mary Erickson, and sister, Deborah Messina-Smith.

Len grew up in Florida and moved to New Jersey where he met Jan, whom he married in 1970. He graduated from Nutley High School in New Jersey and later attended Miami Dade University in Florida. Len and his family moved to Texas in 1992, where he was currently working for Chase Controls. An avid politician, Len ran for State Assembly in New Jersey and State Representative in Texas, and was actively involved in the Tea Party. He had a passion for politics, cooking, a good glass of wine, and above all, love for his family and his dog, Zack.

Thank you for all of the support and love you have given us during this time of sorrow. In lieu of flowers, please send a donation to:

Biswajit Kar M.D.
Texas Heart Institute
Mail Code 3-117
PO Box 20345
Houston, TX 77225-0345
Len Messina was my friend who lived in Nottingham Country. We served together on the Nottingham Country Community Improvement Association Board, and we knew each other from local politics.
Len was the only Conservative Republican who ever seriously opposed State Representative Bill Callegari. He didn't have a chance in the world of defeating Representative Callegari, but he felt like he should try, and try he did. In 2004 he walked most of Katy before the Primary Election and talked a considerable number of people into voting for him, but it was not enough.
Here was his platform--one can see that he was ahead of his time: He advocated:
REAL TAX REFORM: We have a spending problem, not a revenue problem. We need real reform that places caps on state spending. Limiting increases to population and the Consumer Price Index (CPI) growth.
REAL EDUCATION REFORM: Tougher standards for students and teachers. Better fiscal management utilizing uniform school building plans and a statewide buying program to purchase common items.
PRISON REFORM: No early release for prisoners, especially repeat offenders. Elimination of cable TV, internet access and other amenities for prisoners.
ILLEGAL IMMIGRATION: Texas has a responsibility to its citizens to protect our border from drugs and illegal immigrants that add costs to our hospital and school districts. We must utilize our National Guard units where they are needed most.
After that, Len settled for helping out with the Elections when they occurred and was always a cheerful presence at the voting place in Nottingham's Precinct 522.
My association with Len spanned many years, but I was and am most grateful to him for his support when the NCCIA came after me when I discovered that some of the officers were complicit in covering up the fact that the former NCCIA grounds maintenance contractor was operating without a contract, had submitted to the Association an altered State document --a license to apply chemical fertilizers (which is a felony if the Association had filed charges), that three people on the board were not even property owners and were therefore not even members of the NCCIA, and other irregularities too numerous to mention.
At a meeting held at a cost to our community of $10,000, Dave Barrow, Samuel S. Griffin, Rosemary Smith, Matt Landry, and others voted me out of office. The only thing I ever heard them accuse me of was "putting signs in the esplanades" which in fact I had been the only person over the years who took DOWN signs in the esplanades! Anyway, it was a trumped up thing to get rid of me, and about a year later, they did the same thing to Rose Mary Smith, and she gave me some of their incriminating emails. I made copies, mailed them to 200 of my friends as well as my detractor's neighbors, and by now most of them have moved out of our neighborhood in disgrace, and my reputation has been restored!
During all of that time, I had few Nottingham friends who stood by me. If you've never been accused of something you didn't do, you cannot understand the frustration of this sort of thing. But I certainly found out who my friends were.
Chief among them was Len Messina. He did everything he could to help me out. He also didn't trust these people, and he knew they were lying about me. He was in charge of security, and he asked the Deputy Constables to sit outside my home for the week before that recall meeting! And they did. I didn't even know they were there until my neighbor told me! It helped that Harris County Constable Glen Cheek was an old friend, but it was Len who stuck his neck out by asking for the patrol. When Len later resigned from the NCCIA board, his final motion was to nominate me to take his place!
At the recall meeting Len had many kind words to say, and was among the few who spoke the truth that day.
I had no better friend than Len Messina. He is greatly missed.