Robert (Bob) Cunningham: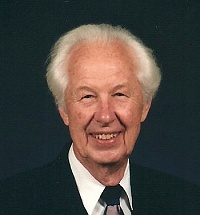 Robert (Bob) H. Cunningham, Jr.
Dec. 26, 1924 - Jun. 7, 2012
Remembering Robert (Bob) H. Cunningham,Jr.
Dec. 26, 1924 - Jun. 7, 2012  
Robert Hillary Cunningham, Jr., a lifelong Texan died on June 7, 2012 in Katy, TX. He was born in Houston Dec 26, 1924, to Elie Vangilder and Robert H. Cunningham. Robert was devoted to his family; committed to God; thoughtful and giving to those in need.
He was a graduate of the U of H with a B.S. degree in Electrical Engineering. He was a Licensed Professional Engineer. 
He is survived by the love of his life, his bride of 59 years, the former Betty Marie Corrigan; two beautiful daughters Vickie Zula Kibler & husband John and Darlene Kay Bowen & husband Michael. 
Robert is preceded in death by a grandson, Patrick Robert Kibler and 2 sisters: Martha Shaver, Letha Markum. Also surviving him are 4 grandsons: Kevin Kibler and Scott Kibler, Brandon Bowen and Dustin Bowen (wife - Stephanie) and great-granddaughter, Julie. 
Robert was employed by Sinclair Refining Co. for 25 years when it merged with ARCO. He completed 38 years of service in 1980 when he retired. During these years ARCO loaned Robert to Alyeska Pipeline Service Co. Feb 1, 1974. The 7 years spent in Alaska were exciting years of many challenges with Robert wearing many hats in the Project Management Division as Manager of Quality Assurance, Technical Services, Electrical, Instrumentation and Quality Control. Robert's final years were found in Prudhoe Bay, Alaska in the position of Superintendent of Safety & Operations Support which included 7 depts: Safety & Fire, Technical Training, Operations Support, Field Communications, Contract Administration, Security, Airline and Medical Services. Bob retired Aug 1980 after supervising 700 employees.
Robert came out of retirement in 1982 to become the Director of Friendship Ranch in Hockley, TX, which was a branch of the Star of Hope. It was a Christ-centered in-patient facility for 38 men whose lives had been torn apart by alcohol and drug abuse. Cunningham worked tirelessly to obtain State Licenses for the Ranch. He obtained an LCDC personal license. He retired again after 8 years.
Eight years later Robert went to work for the ARB and was elected chairman. He worked for Harris County Appraisal Review Board in several positions. The last one was as the ARB Administrator, from which he retired May 2010.
Robert loved the Lord Jesus Christ and was a Deacon at Second Baptist Church and First Baptist Church for 32 years. Bob made numerous Mission trips to S. America. He taught Career and Young Married Couples.
He worked tirelessly in the GOP to bring the 2-party state to Texas. He held many positions in the GOP since 1960, including present ones which included Precinct Chair 522; Chair of Senatorial District 17; special advisor to the County Chairman, Jared Woodfill, served on many committees at the District & State level. He was awarded a Lifetime Service Award from the Harris County Republican Party.
Honored to serve as pallbearers are the grandsons: Brandon Bowen, Dustin Bowen, Kevin Kibler, Scott Kibler and Sons-in-law John Kibler and Michael Bowen.
Visitation services are Sunday, June 10 from 5-8 at Forest Park Lawndale. The next day, Monday, June 11 there will be graveside services at 1 p.m.
A Praise Service will be held on Tuesday, June 12, 2012 at 12 noon at Houston's Second Baptist Church - West in Katy, Texas. Dr. Wallace Henley will officiate with Pastor Keith Carmichael assisting.
Immediately following the service, all are invited to greet the family, during a reception to be held in the Williams House at Second Baptist Church.
Please keep the family in your thoughts and prayers.
On a personal note, Bob was a dear friend to me. As a young Republican, he and his wife, Betty, were instrumental in getting me involved in the local party. Bob will be remembered for his kindness and willingness to invest his life in others. You will be missed my friend.
Sincerely,
Jared Woodfill
Chairman, Harris County Republican Party
**************************************
I would like to add that Mr. Cunningham was the Republican Precinct Chairman for Precinct 522 in Nottingham Country, and I had the privilege of working at the polls with him during many elections. He ran the precinct like it should have been run, and with his dear wife, Betty, he led the way for Republicans in our area.
Mr. Cunningham endeared himself to me when the Nottingham Country HOA in 2002, sought to vote me out of office because I had accused them of doing some illegal things. He came to the meeting (with the 500 other residents) and saw what the president and the other officers were up to. When the votes were being counted after the meeting, he also saw how things were going, and he forced them to recount all of the votes while he watched! In fact, he helped count the ballots! He was so revered in our community that no one dared say a word about what he was doing. He was my true hero. And yes, the good guys won that night!
Mary McGarr
Betty Cunningham wife of Robert Cunningham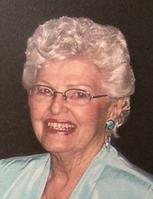 Betty Cunningham passed gently to Heaven July 27, 2014. She is survived by: Vickie Zula, John, Patrick (dec.), Kevin & Scott Kibler. Darlene, Michael, Brandon, Dustin(wife Stephanie) & Julie Bowen. Betty was preceded to Heaven by the love of her life, her husband of 59 yrs, Robert. Betty was born Oct. 19, 1928 to Zula Hagemeier & J.W. Corrigan. As a Christian she began Bible teaching from 10 yrs old thru her 80's. She served at 2nd Baptist many yrs & sang in 15 pageants at 1st Baptist. She served in short-term missions in Haiti, Brazil, Israel & Peru. She was an encourager & wrote letters to people everywhere, inspiring them with hope and faith. She concluded all her letters with Phil 1:3, "I thank my God in all my remembrance of you" & was a valiant prayer warrior. Betty was LCDC certified.
She was a key leader in the Harris County Republican Party working tirelessly to bring the 2 party system to TX, serving on GOP committees on state, county & precinct levels. Betty worked at polls on election day & was Editor of the GOP Newspaper. Honored with Lifetime Service Award.
Betty was a master gardener & landscape designer. She saw God in everything! In Texas, Alaska & beaches.
Celebration service: 2nd Baptist-West Katy, July 30, at 11. Pastor Wallace Henley will officiate. Nan Grantham-pianist. Eastside visitation: 3-4 at Forest Park Lawndale Cemetary.


Published in the Houston Chronicle on July 29, 2014