WHO KNEW ALTERING A STATE DOCUMENT COULD GET YOU A YEAR IN JAIL?
I'm posting this article not because I think this superintendent did anything as a superintendent that she should not have done. Looks to me like she tried to clean up the Hempstead ISD, and the Board members didn't like her tactics!
But if she misrepresented or altered her resume' then that is another issue and is a problem for me. I've seen some of that in my own experience.
I have discussed in a previously posted article, the altering of a state document by the Nottingham Country Community Improvement Association's representative, Principal Management Group, Senator John Carona's homeowner management company that had Nottingham Country's business until I got rid of them. PMG tried to pawn off a state certificate to apply chemicals in Nottingham Country as a current and legitimate certificate when I asked to see the landscaper's paper work (I had to ask for it several times). One look and I could tell that it had been altered (it was signed by "Rick Perry" Agricultural Commissioner, and Rick Perry was already our Governor! The people in charge of PMG were too dumb to realize that! But alter a state document, they did. Our association should have pressed charges, but being honest at that time, wasn't their thing!
But it bears noting that altering state documents or otherwise messing with them is indeed a crime, and it can result in a year's imprisonment. The more people that are aware of that, perhaps the less likely we are to see it happen!
MM
http://www.houstonchronicle.com/news/houston-texas/houston/article/Hempstead-ISD-superintendent-faces-criminal-5565989.php
Hempstead ISD superintendent faces criminal charges
By Anita Hassan
June 19, 2014 | Updated: June 19, 2014 10:27pm
Waller County Sheriff's Office
Delma Flores Smith (booking photo)
The embattled superintendent of the Hempstead Independent School District surrendered to authorities Thursday afternoon after being indicted on charges of falsifying her résumé.
The charges against the superintendent, Delma Flores-Smith, are the latest development in a racially charged drama that has played out since she assumed leadership of the small school system northwest of Houston 10 months ago.
A grand jury Monday indicted Flores-Smith on three counts of tampering with a government record, according to court documents. The charge is a class A misdemeanor punishable by up to one year in jail.
The indictment alleges that in January, Flores-Smith "impaired" the availability of her résumé, a government document, to former school board member Kay Kloecker, who requested it through a public information law. Flores-Smith also is accused of having presented a copy of her résumé that was not the same one on file with the school district and of having done so "with knowledge of its falsity," court documents state.
"There's nothing in the indictment that indicates what the falsity is," said Brent Mayr, Flores-Smith's attorney, saying his client is innocent. "People who are unhappy with the decisions she's making are pushing these charges."
Kloecker said she could not comment. Mayr said he had advised his client not to comment. School board members could not be reached.
A broad reach
The controversy in Hempstead ISD began when Flores-Smith - placed on administrative leave last week - became superintendent last August. Shortly after taking over, Flores-Smith oversaw a financial review by an independent auditor that led to the suspension of the district's business manager for allegedly steering contracts to a plumbing company owned by her husband.
Then in November, Flores-Smith made national headlines when she suspended the principal of Hempstead Middle School, Amy Lacey, for directing students over the intercom not to speak Spanish while on campus. The board later voted not to renew Lacey's contract. She has filed an appeal and is seeking a hearing before the board.
Waller County Sheriff's Office
Delma Flores-Smith turned herself in at the Waller County Jail.
A few months later, Flores-Smith suspended the Hempstead ISD police chief, saying he failed to properly investigate the vandalism of three school buses.
Augustin Pinedo, director of the League of United Latin American Citizens Region 18, said he believes the suspension and criminal charges against Flores-Smith are backlash from officials who disagree with her decisions.
"It's like an ongoing retaliation because she got rid of these people to clean up the place," he said.
Flores-Smith turned herself in at the Waller County Jail around 4 p.m. Wednesday. She posted $1,500 bail and was released.
University of Houston criminal law professor Sandra Guerra Thompson said courts have interpreted the state statute on government record-tampering in a way that gives it broad reach.
Using other methods
"It's been applied in situations where you wouldn't expect it to be," she said.
Thompson said that using an alleged falsity on a résumé to bring criminal charges is troubling.
"If there isn't really a good, justifiable cause for using criminal sanctions, then we should use less severe sanctions" such as through internal disciplinary action, Thompson said. "If that's enough to remedy the harm, that's what should be preferred."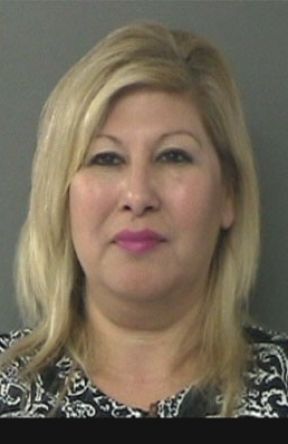 Waller County Sheriffâ??s Office