THE LEONARD E. MERRELL CENTER/ARENA:
The Leonard E. Merrell Center UNDER CONSTRUCTION in 2003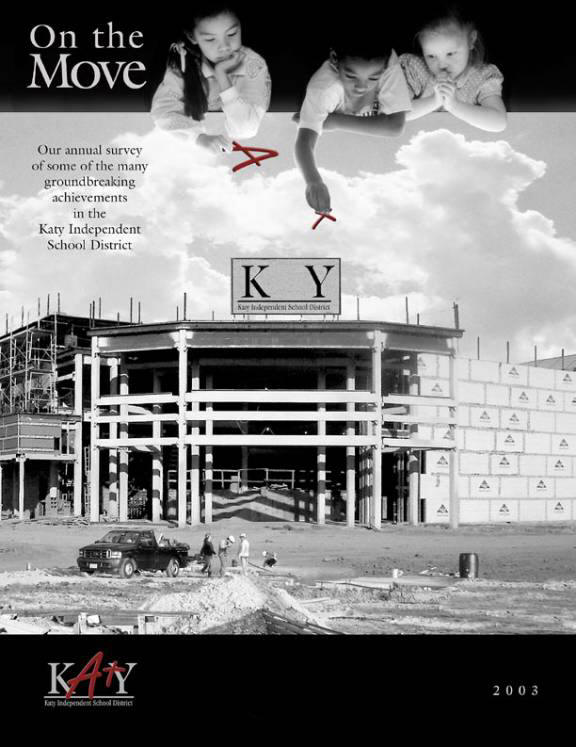 The picture is on the cover of the 2003 issue of "On the Move" published by Katy ISD.
The Merrell Center Arena Opened in March 2005
The Arena cost $23,549,168.00 using TIRZ Funds. It has 145,000 square feet of space and can seat up to 7,200 people. It cost $162 per square foot to build.
Whether you are planning a small, intimate gathering or a more elaborate, large-scale event, the 145,000 square foot facility provides a "custom fit" to personalize any event.

The Leonard E. Merrell Center multipurpose arena is only 25 miles west of Houston's central business district. Just minutes from Katy Mills Mall, the Merrell Center is surrounded by a variety of locally owned businesses, along with a range of hotels, restaurants and shopping centers.

Banquets/Receptions:
A range of service levels, from buffet to wait staff can be personalized to fit any budget.

Concerts:
Automated sound system and lighting presets ensure your concert performances will go off without a hitch.

Athletic Events:

The Merrell Center arena comes equipped with large Daktronics LED video screens and scoreboards that put you right in the "game."
*Sports seating for 5,600 spectators
*Removable Connor maple wood floor
*Retractable risers
*Portable, professional AIA basketball goals
*Portable volleyball equipment
*2 separate officials' locker rooms
*4 unisex players' locker rooms accommodate teams on floor and teams waiting to play
*Scorer's table has LED information screens
*Full-service concession stands

1. How the Merrell Center Got Named for Leonard Merrell
2. Op Ed on the Naming of the Merrell Center by Chris Cottrell
4. Follow Up Letter to KISD Regarding Copperhead Fiasco
5. Salary Costs for the Merrell Center Booking Agents
6. Copperheads Leave Town Owing KISD, Booster Clubs
7. Houston Chronicle Story on the Arena
8. The Real Costs of the Merrell Arena
9. Merrell Center Operates in the Red
10. Events at Merrell Center in 2014
11. Salaries for Merrell Center Booking Agents 2013-2014
12. Salaries for Merrell Center Booking Agents 2014-2015